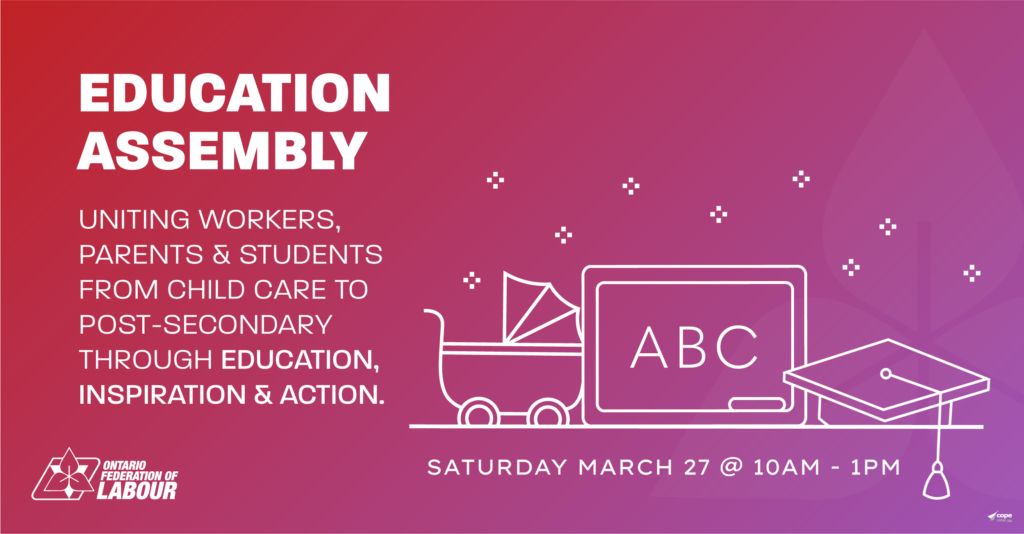 On Saturday, March 27 at 10:00 a.m. – 1:00 p.m., join the first virtual Province-Wide Education Assembly to discuss what Ontarians need from our education systems during COVID-19 and beyond.
Parents, teachers, students, childcare workers, faculty, and support staff across education sectors are invited to discuss their diverse experiences navigating COVID-19. We will use these discussions to better understand how to work together to advocate for increased public funding for education, from child care to post-secondary.
ASSEMBLY OVERVIEW:
Education – Hear from a panel of experts about chronic underfunding and safety issues across education sectors
Inspiration – Share stories about the diverse ways COVID-19 has impacted workers, parents, and students
Action – Strategize and develop actions in breakout discussion groups
Join us to develop an education plan that keeps everyone healthy and safe. Together, we are the power of many fighting for a better public education system for all.
RSVP now to get a link to join the webinar