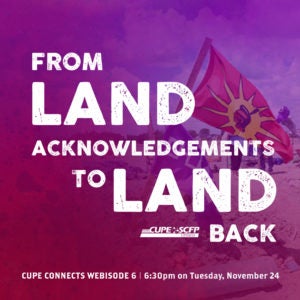 Join us on Tuesday, November 24 at 6:30 pm for CUPE Connects Webisode 6: From Land Acknowledgements to Land Back—Supporting Indigenous Communities.
Read the panelist's biographies, pose your questions, and register by clicking here.
Across Canada and specifically in Ontario, Indigenous people are under renewed attacks on their land and treaty rights.
Learn from a panel of Indigenous activists and leaders about the steps you and your local can take to support Indigenous communities and move toward reconciliation.